Sharing Strength-Based Strategies to Help Schools, Families & Organizations Thrive
Speaker
Lea offers her audiences a unique blend of science & practice.
Researcher
As a researcher, Lea has published 100+ scientific articles & book chapters.
Lea Waters, PhD, is a psychologist, researcher, speaker and author. She's one of the world's leading experts on Positive Education, Positive Organizations, and Strength-Based Parenting and Teaching. As a University researcher, Lea turns her science into strength-based strategies to help organizations, educators and parents around the world build resilience in their employees and children, helping them to thrive. Lea is a Board Member and the 2017-2019 President of the International Positive Psychology Association (IPPA) and founding director of the Centre for Positive Psychology at the University of Melbourne. Lea holds affiliate positions at Cambridge University and the University of Michigan and serves on the Scientific Board at the University of California, Berkeley's Greater Good Science Center. She is the author of The Strength Switch. Lea's work has been featured in The Wall Street Journal, The Guardian, The Atlantic, The Washington Post, and more.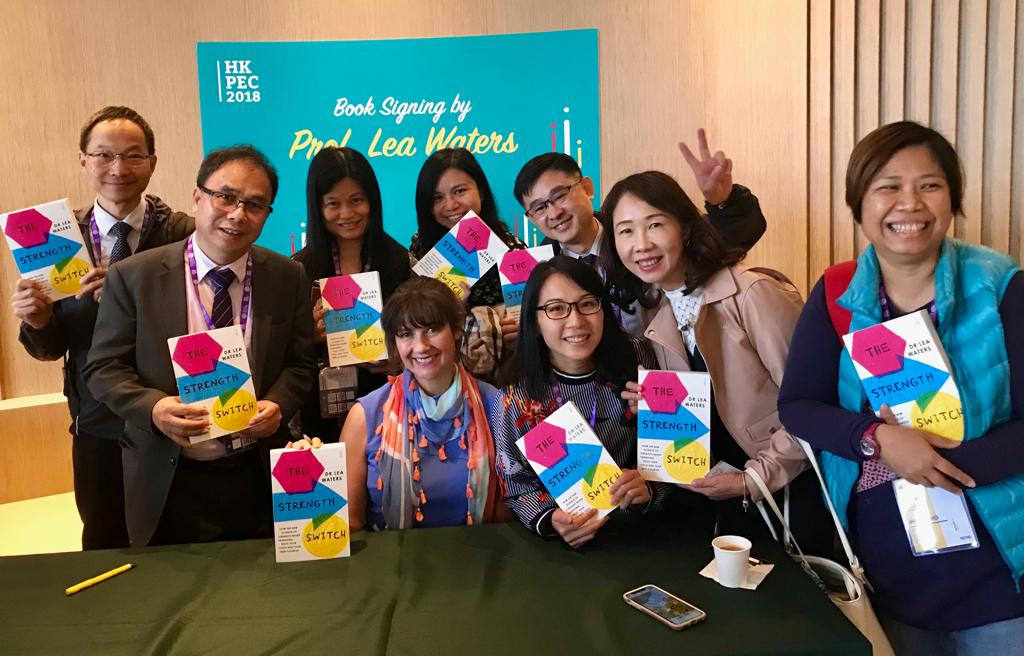 "Lea is one of those rare speakers who brings research to life so that it can be directly applied in practice. She is engaging & informative, providing lasting impacts on anyone who's fortunate enough to hear her speak. "
— Ross School of Business, University of Michigan, USA
"To say that Lea's presentations sparked a strengths movement in our school would be an understatement! Having Lea here was absolutely the boost we needed to move our school further ahead in the field of Positive Education."
— Lakefield College School, Canada
"Lea's authenticity, honesty, humor & humility, complemented by her unquestionable leading expertise in this field, enables her to skillfully connect to parents, truly making her a beacon of hope & meaningful change."
— PLC School, Australia
Visible Wellbeing™
FOR SCHOOLS
Making the invisible visible, Lea's Visible Wellbeing™ program has helped teachers in schools across 5 countries to use the learning process itself as a delivery mechanism to build student wellbeing.
The Strength Switch
FOR PARENTS
Explore Lea's book, online parenting course and free resources to help you switch your attention to your child's strengths.
Strength Stars
FOR STUDENTS
A strengths framework for early learning education. Help kids ages 3-8 identify and use their strengths.
It's personal…
My aim is to protect, support and build the mental health of as many young people as I can across the globe. Having survived abuse in my own childhood and overcome PTSD and mental illness in my teens and early adult life I am committed to working with kids, schools and families to help them build resilience and ultimately thrive.
I am grateful for the opportunity to work together and hope you find these resources helpful in your parenting, teaching and/or professional journey!
Get in touch with Lea…
For speaking-related requests, please use the Speaker Request Form…
For all general inquires, fill out the form below or please contact:
Nicole Macdowell
Nicole@LeaWaters.com
We look forward to speaking with you!